Joséphine Baker & Chiquita
€

40.00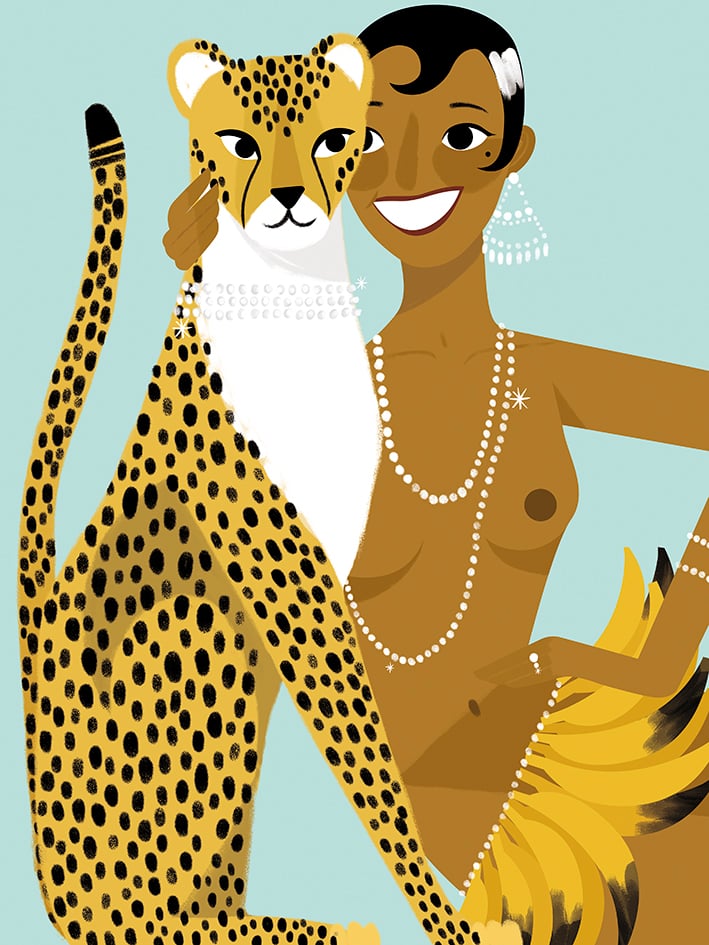 La estrella del cabaret ideó un número musical en el que aparecía una gueparda. Cuando el show terminó, decidió quedarse con ella y llamarla Chiquita. Tal fue el amor entre ellas que viajaban juntas y dormían juntas. Diana Vreeland, la famosa editora de Harper's Bazaar contaba que una vez coincidió con ellas en un cine de París: «Cuando encendieron las luces, vi que Chiquita estaba sentada a mi lado, Joséphine la había llevado para que viera a los guepardos de la película. Fuera del cine esperaba un Rolls Royce blanco, cuando el conductor abrió la puerta, Joséphine soltó la correa y Chiquita dio un gran salto al interior del vehículo, seguida de la bailarina en un vestido de Vionnet. Y así se fueron a toda velocidad y con tanto estilo… Juntas eran el epítome de la época Decó!»
Serie limitada de 20 numeradas y firmadas. Tiempo estimado de entrega en España de 10 a 15 días.
*
The cabaret star had a musical number in which there was a cheetah. When the show ended, she decided to keep her and named her Chiquita. They were so close that they even traveled and slept together. Diana Vreeland, the famous Harper's Bazaar editor run into them at a movie theatre in Paris: «When they turned on the light I discovered Chiquita was seated right next to me, Joséphine had brought her to see the other cheetahs in the movie. Outside the theatre there was a white Rolls Royce waiting for them, when the driver opened the door, Joséphine released the lead and Chiquita whooped and took one elongated leap into the back of the Rolls Royce, with Josephine Baker in her couture Vionnet dress leaping in behind. And then they were off with such speed and style; together the very zeitgeist of the Deco years!»
Limited serie of 20 signed and numbered. Expected arrival outside Spain from 20 to 30 days.